AI in Endoscopy Market Scope
| | |
| --- | --- |
| Report Attribute | Details |
| Market Size Value in 2022 | US$ 51.79 million |
| Revenue Forecast in 2031 | US$ 497.99 million |
| CAGR | 25.4% |
| Base Year for Estimation | 2022 |
| Forecast Period | 2023 to 2031 |
| Historical Year | 2021 |
| Segments Covered | Application, Component, End User, and Region |
| Regional Scope | North America, Europe, Asia Pacific, Latin America, and the Middle East & Africa |
Report Overview
According to the deep-dive market assessment study by Growth Plus Reports, the global AI in endoscopy market was valued at US$ 51.79 million in 2022 and is expected to register a revenue CAGR of 25.4% to reach US$ 497.99 million by 2031.
AI in Endoscopy Market Fundamentals
AI in endoscopy refers to integrating artificial intelligence technologies and algorithms into the field of endoscopy, which involves the visualization and examination of internal body structures using an endoscope. AI techniques are utilized to analyze endoscopic images or videos, provide real-time decision support to endoscopists, automate measurements, assist in navigation, assess procedure quality, and even make predictions based on patient data. By leveraging machine learning and deep learning algorithms, AI in endoscopy aims to enhance the accuracy, efficiency, and effectiveness of endoscopic procedures, improve diagnostic capabilities, and assist healthcare professionals in making informed decisions during the examination and treatment of patients.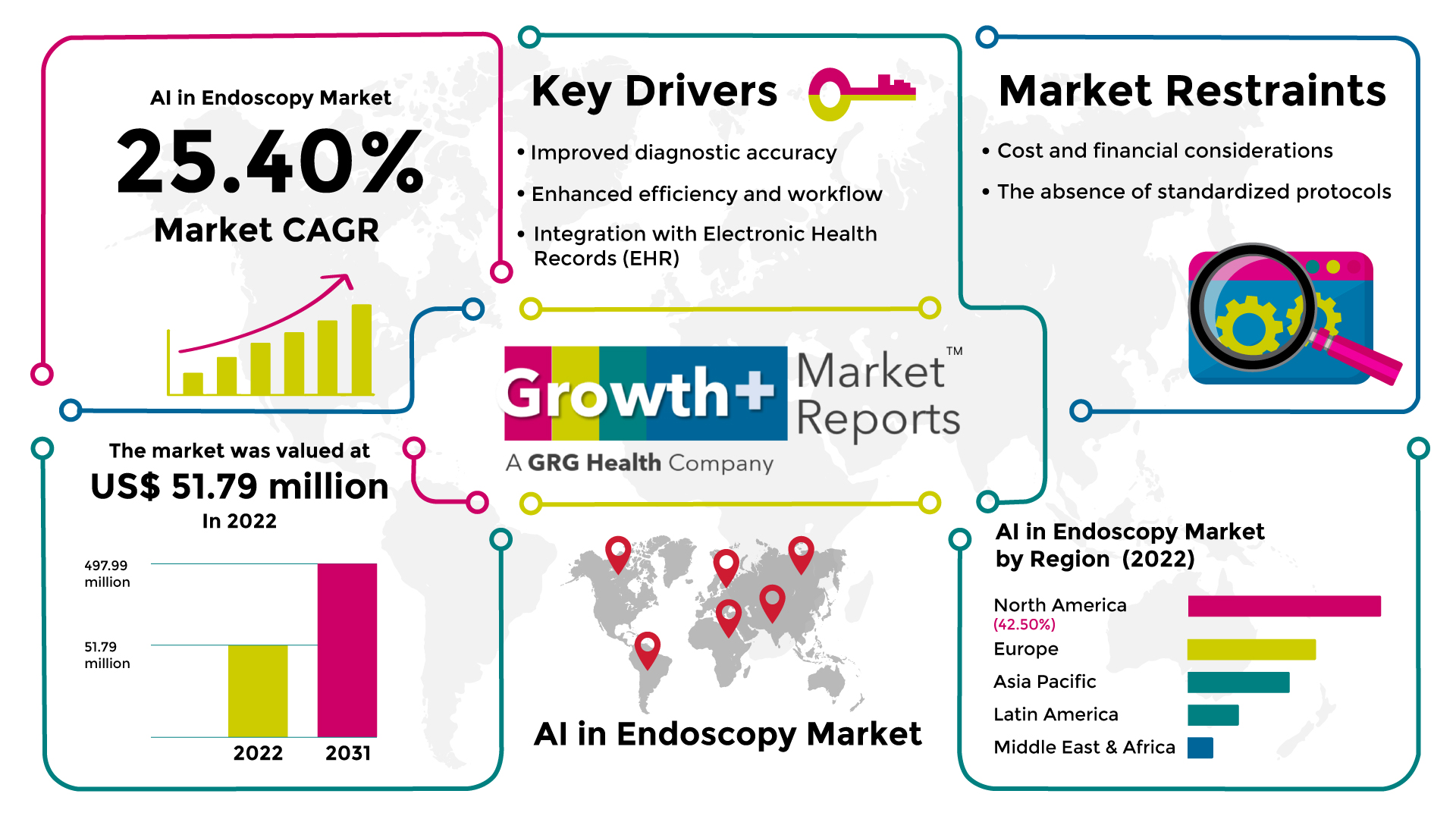 AI in Endoscopy Market Dynamics
AI algorithms can analyze endoscopic images or videos with high precision and accuracy, aiding in detecting and classifying abnormalities. Identifying and characterizing lesions, polyps, or tumors more accurately can improve diagnostic outcomes and early detection of diseases like stomach cancer. According to the GLOBOCAN 2020 report, 1,089,103 stomach cancer cases were diagnosed, causing 768,793 deaths. AI can automate tasks in endoscopy, such as lesion detection or polyp classification, reducing the burden on healthcare professionals and improving workflow efficiency. There is a growing preference for minimally invasive procedures due to their potential benefits, such as reduced patient discomfort, shorter hospital stays, and faster recovery times. AI can contribute to this trend by enhancing the accuracy and efficiency of endoscopic procedures.AI algorithms can potentially reduce false negatives and missed diagnoses in endoscopy. By serving as a second pair of eyes, AI can help identify suspicious areas that human observers may overlook. It can increase sensitivity in detecting abnormalities, leading to more accurate diagnoses and improved patient outcomes, boosting the AI in endoscopy market demand. The AI in endoscopy market outlook is positive as AI in endoscopy is increasingly being integrated with electronic health record systems. This integration allows seamless data exchange, facilitating comprehensive patient information retrieval and longitudinal analysis.
However, implementing AI technologies in endoscopy requires significant upfront investments, including the cost of hardware, software, data storage, and computational resources. The financial burden associated with AI implementation and the need to demonstrate a clear return on investment is restricting AI in endoscopy market growth. The absence of standardized protocols, guidelines, and benchmarks for AI in endoscopy poses a barrier to its widespread adoption. The lack of universally accepted performance metrics or standardized evaluation methods makes it difficult to compare and accurately assess the performance of different AI algorithms, which is also hindering the AI in endoscopy market growth.
AI in Endoscopy Market Ecosystem
The global AI in endoscopy market is analyzed from four perspectives: application, component, end user, and region.
AI in Endoscopy Market by Application
Based on the applications, the global AI in endoscopy market is segmented intobronchoscopy, gastrointestinal endoscopy, colonoscopy, laparoscopy, and others.
The gastrointestinal endoscopy segment accounted for the largest AI in endoscopymarket share in 2022. The high prevalence and impact of gastrointestinal disorders, including colorectal cancer, gastrointestinal bleeding, inflammatory bowel disease, and esophageal disorders, create a strong demand for AI solutions in gastrointestinal endoscopy. AI technology holds promise in enhancing the diagnosis, detection, and treatment of these disorders. According to the European Federation of Crohn's and Ulcerative Colitis Associations, around 10 million people worldwide live with inflammatory bowel disease. Gastrointestinal endoscopy encompasses a broad range of procedures, including colonoscopy, upper endoscopy (esophagogastroduodenoscopy), and flexible sigmoidoscopy. Each procedure presents unique challenges and opportunities for AI integration, such as polyp detection, lesion classification, and real-time guidance. The versatility and scope of gastrointestinal endoscopy procedures make it a focal point for AI development and application. AI algorithms can analyze endoscopic images and videos in real time, detecting abnormalities or precancerous lesions early. Early diagnosis is crucial for improved patient outcomes and reduced healthcare costs.
Gastrointestinal endoscopy procedures are among the most frequently performed medical examinations globally. According to the National Institutes of Health, in the U.S., approximately 20 million gastrointestinal endoscopies are performed every year. The high volume of cases presents a significant market opportunity for AI solutions regarding patient reach, revenue potential, and impact on healthcare efficiency. The field of AI in gastrointestinal endoscopy has witnessed substantial research and development efforts from academia, industry, and medical institutions. This focus on advancing AI applications in gastrointestinal endoscopy has developed robust algorithms, datasets, and expertise in this domain. Gastrointestinal endoscopy benefits from well-established clinical guidelines and quality indicators that guide the practice of endoscopists. Integrating AI in gastrointestinal endoscopy aligns with these guidelines and quality measures, creating a supportive environment for AI adoption.
The bronchoscopy segment accounted for a considerable revenue share of AI in endoscopy market in 2022. The rising prevalence of respiratory diseases, such as chronic obstructive pulmonary disease (COPD), asthma, and lung cancer, is increasing the demand for bronchoscopy. According to the FIRS Global Impact of Respiratory Disease report, COPD affects an estimated 200 million people, with 3.2 million dying yearly, making it the third-leading cause of mortality worldwide. Early detection of lung cancer and other respiratory diseases is vital for successful treatment and improved survival rates. AI algorithms can assist in identifying and analyzing suspicious lesions, nodules, or abnormalities in real-time bronchoscopy images. A significant research focuses on applying AI in bronchoscopy to improve diagnostic accuracy, lesion detection, and treatment planning. Academic institutions, medical centers, and industry players collaborate to develop and validate AI algorithms specific to bronchoscopy.
AI in Endoscopy Market by Component
Based on the components, the global AI in endoscopy market is segmented into hardware, software, and services.
The software segment is further sub-segment into AI algorithms, image analysis software, and data management systems. Software solutions offer greater flexibility and scalability compared to hardware-based solutions. AI algorithms can be easily implemented and updated in software, allowing rapid advancements and improvements. Software-based AI solutions can also be deployed across different endoscopy devices and platforms, making them accessible to a wider range of healthcare providers. Software solutions can be seamlessly integrated with existing endoscopy equipment and software systems. This compatibility enables healthcare facilities to leverage their current infrastructure and investments without significant hardware upgrades or replacements. Software-based AI algorithms can perform real-time analysis of endoscopic images or videos during procedures. This capability enables immediate feedback, guidance, and decision support to endoscopists, enhancing their diagnostic accuracy and efficiency. Real-time analysis is especially crucial in time-sensitive situations fueling segmental growth. Software-based AI solutions can be continuously updated and trained on new datasets. The ability to adapt and learn from a growing pool of data enhances the performance and accuracy of AI algorithms over time. Additionally, software solutions generally offer a more cost-effective approach than hardware-based alternatives.
AI in Endoscopy Market by End User
Based on the end users, the global AI in endoscopy market is segmented into hospitals, ambulatory care centers, diagnostic centers, and research institutes.
The hospital's segment accounted for a significant AI in endoscopy market share in 2022. Hospitals cater to a large patient base, treating a wide range of conditions that require endoscopic procedures. This provides a substantial market opportunity for AI in Endoscopy, as integrating AI technology can improve diagnostic accuracy, treatment planning, and patient outcomes across various specialties. Hospitals typically have advanced healthcare infrastructure, including state-of-the-art endoscopy units and equipment. AI solutions can be easily integrated into existing hospital infrastructure, leveraging the capabilities of modern endoscopy systems. Hospitals often have multidisciplinary teams comprising gastroenterologists, pulmonologists, oncologists, and other specialists collaborating in patient care. AI in endoscopy can benefit from this interdisciplinary approach, as different specialties can contribute to developing and applying AI algorithms across a wide range of endoscopic procedures. Hospitals possess large volumes of patient data, including endoscopic images, videos, and electronic health records. This data serves as a valuable resource for training and validating AI algorithms.
AI in Endoscopy Market by Region
Geographically, the global AI in endoscopy market has been segmented into North America, Europe, Asia Pacific, Latin America, and the Middle East & Africa.
The North America region has the largest AI in endoscopy market size in terms of revenue generation accounting for around 42.5% share of the market in 2022. The North American market for AI in endoscopy is driven by the region's significant prevalence of gastrointestinal disorders, such as colorectal cancer, and respiratory conditions, including lung cancer and chronic respiratory diseases. AI technology presents opportunities to enhance the early detection, diagnosis, and treatment of these diseases, thereby increasing the demand for AI solutions in endoscopy. According to the American Cancer Society, in the U.S., in 2020, an estimated 104,610 new colon cancer and 43,340 rectal cancer cases were diagnosed. North America has a robust regulatory framework for healthcare technology, including AI applications. Regulatory authorities, such as the U.S. Food and Drug Administration (FDA) and Health Canada, have established guidelines and frameworks for evaluating and approving AI-based medical devices and software. This supportive regulatory environment encourages the development and adoption of AI in Endoscopy in the region. North America boasts a strong healthcare infrastructure, including advanced hospitals, medical centers, and healthcare facilities. These institutions have access to state-of-the-art endoscopy equipment and resources, making them well-suited for integrating AI technology. The availability of sophisticated infrastructure accelerates AI adoption in North America in Endoscopy.
AI in Endoscopy Market Competitive Landscape
The prominent players operating in the global AI in endoscopy market are:
Wision A.I.
Medtronic Plc
Olympus Corporation
Fujifilm Corporation
NEC Corporation
Odin Medical Ltd.
PENTAX Medical
Magentiq Eye Ltd.
Iterative Health
Wuhan EndoAngel Medical Technology Company
AI in Endoscopy Market Strategic Developments
In March 2023, FUJIFILM India launched an upgraded version of CAD EYE to diagnose the stomach and esophagus. The product was launched in the National event GI Update 2023 at Mysuru. Fujifilm has released this technology for the first time outside of Japan. The CAD EYETM is a powerful tool based on Artificial Intelligence Technology that aids gastroenterologists in diagnosing and characterizing aberrant growth in the GI tract. This is the second chapter in the already established Al diagnostic technique for colon detection.
In October 2022, Alimentiv Inc., Satisfai Health, Inc, and Virgo Surgical Video Solutions, Inc. announced a strategic partnership to revolutionize central reading, data capture, decision support, and patient recruitment in the clinical trial domain for Inflammatory Bowel Disease (IBD) and allied GI conditions. This arrangement will bring the next generation of imaging technology to clinical trials in gastroenterology.
Frequently Asked Questions About This Report
AI in endoscopy refers to integrating artificial intelligence technologies and algorithms into the field of endoscopy, which involves the visualization and examination of internal body structures using an endoscope.
Companies continuously launch new AI-powered products and expand their product portfolios to cater to a wide range of endoscopic procedures. This includes developing AI-assisted endoscopic imaging systems, software platforms for image analysis and interpretation, robotic endoscopy systems, and other innovative tools.
The prominent players operating in the global AI in endoscopy market are Wision A.I., Medtronic Plc, Olympus Corporation, Fujifilm Corporation, and NEC Corporation.
The global AI in endoscopy market growth is estimated to grow at a revenue CAGR of 25.4% during the forecast period from 2023 to 2031.
The estimated size of the global AI in endoscopy market in 2031 is US$ 497.99 million.