Oncology Imaging Software Market Scope
| | |
| --- | --- |
| Report Attribute | Details |
| CAGR | 5.06% |
| Base Year For Estimation | 2022 |
| Forecast Period | 2023 to 2031 |
| Historical Year | 2021 |
| Segments Covered | Indication, Imaging Technique, Mode of Delivery, and Region |
| Regional Scope | North America, Europe, Asia Pacific, Latin America, and the Middle East & Africa |
Report Overview
According to the deep-dive market assessment study by Growth Plus Reports, the global oncology imaging software market is expected to register a revenue CAGR of 5.06% during the forecast period of 2023 to 2031.
Oncology Imaging Software Market Fundamentals
Oncology imaging software refers to specialized software applications used in the field of oncology (the study and treatment of cancer) for the interpretation and analysis of medical images related to cancer diagnosis, treatment planning, and follow-up. These software solutions are designed to assist radiologists, oncologists, and other healthcare professionals in analyzing and managing imaging data specific to cancer patients.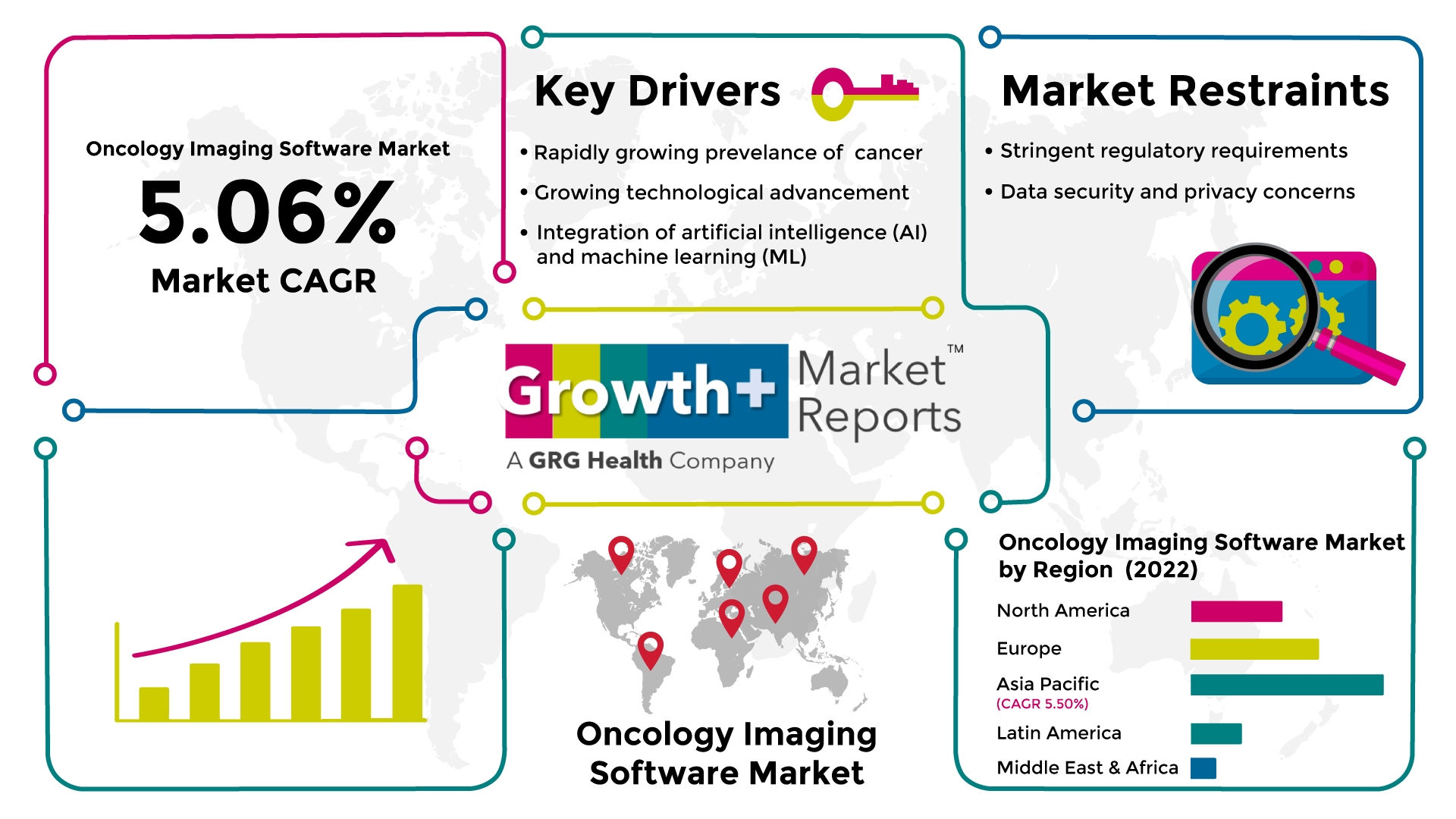 Oncology Imaging Software Market Dynamics
As cancer rates continue to increase, there is a growing demand for advanced imaging solutions to aid in the detection, diagnosis, and treatment planning of various types of cancers. According to "American Cancer Society Journal," in 2020, there will be an estimated 19.3 million new cancer diagnoses and 10 million cancer deaths globally. Female breast cancer is the most usually diagnosed cancer (11.7% of all cases), followed by lung cancer (11.4%), colorectal cancer (10.0%), prostate cancer (7.3%), and stomach cancer (5.6%). Lung cancer is the greatest cause of cancer mortality (18.0% of all cancer fatalities), followed by colorectal cancer (9.4%), liver cancer (8.3%), stomach cancer (7.7%), and female breast cancer (6.9%). Rapid advancements in imaging technologies, such as computed tomography (CT), magnetic resonance imaging (MRI), positron emission tomography (PET), and molecular imaging, have significantly improved the quality and accuracy of cancer imaging. Oncology imaging software plays a crucial role in harnessing these technologies and extracting meaningful insights from the vast amount of imaging data generated. The shift towards personalized medicine and targeted therapies in oncology require precise imaging tools for patient stratification, treatment planning, and therapy response assessment. The oncology imaging software provides the necessary tools and capabilities to support these personalized approaches, aiding in selecting and monitoring targeted therapies. Additionally, AI and ML technologies have gained significant traction in healthcare, including the field of oncology imaging. Oncology imaging software leverages AI and ML algorithms to automate tasks, enhance image analysis, improve detection and diagnosis accuracy, and facilitate data-driven decision-making. The integration of these technologies in imaging software is driving market growth. For instance, the newly developed technology called "ProstatID" by Bot Image, which is an AI-driven medical device CAD software, significantly enhances the accuracy and speed of prostate cancer detection (CADe) and diagnosis (CADx). It is a combination of artificial intelligence with traditional MRI scanning. Oncology imaging software platforms enable efficient image interpretation, analysis, and reporting, improving productivity, reducing turnaround times, and enhancing patient care. Minimally invasive image-guided interventions, such as image-guided biopsies and ablation therapies, have become increasingly important in oncology. Collaborative efforts among research institutions, healthcare providers, and industry players have led to the development of large-scale imaging databases and data sharing and analysis initiatives.
Oncology imaging software often requires substantial upfront investments, including the cost of software licenses, hardware infrastructure, and ongoing maintenance and support. These expenses can pose challenges, particularly for smaller healthcare institutions with limited budgets, hindering the adoption of advanced imaging solutions. Ensuring the security and privacy of this data is crucial. Incompatibilities between different software platforms and data formats may hinder seamless data exchange and integration, leading to workflow inefficiencies and data silos. Moreover, the lack of standardized protocols and workflows for oncology imaging software can present challenges in data interpretation, analysis, and comparison across different institutions. While advanced imaging technologies like PET, MRI, and molecular imaging offer valuable insights into oncology, their availability may be limited in certain regions or healthcare settings. The lack of access to these technologies can limit the demand for oncology imaging software specifically designed for these modalities.
Oncology Imaging Software Market Ecosystem
The global oncology imaging software has been analyzed from four perspectives: indication, imaging technique, mode of delivery, and region.
Oncology Imaging Software Market by Indication
Based on indication, the global oncology imaging software market can be further segmented into breast cancer, lung cancer, prostate cancer, colorectal cancer, melanoma, and others.
Breast cancer is one of the most common types of cancer globally, affecting a significant number of women, thus leading the global market with the largest revenue share. The high incidence and prevalence of breast cancer create a substantial demand for imaging solutions specifically tailored for breast cancer diagnosis, treatment planning, and monitoring. For instance, according to the "World Cancer Research Fund International" article, in 2020, there were nearly more than 2.26 million breast cancer cases in women. Breast cancer screening programs, such as mammography, have been widely implemented in many countries to detect breast cancer at early stages when treatment outcomes are generally more favorable. These screening programs drive the need for advanced imaging software that can support efficient interpretation and analysis of mammography images. Breast cancer diagnosis and management often involve the use of multiple imaging modalities, including mammography, ultrasound, magnetic resonance imaging (MRI), and molecular imaging techniques. Oncology imaging software that integrates and analyzes data from these various modalities is crucial for comprehensive breast cancer assessment, contributing to its market dominance. Advancements in breast imaging technologies have improved the detection and characterization of breast lesions, leading to increased accuracy and specificity in breast cancer diagnosis. For instance, in 2022, Dallas, TX-based MedCognetics, Inc. received U.S. FDA clearance for its AI-enabled software for breast cancer screening, QmTRIAGE. Breast cancer treatment is increasingly tailored to individual patients, considering factors such as tumor characteristics, molecular subtypes, and genomic profiling. The oncology imaging software provides tools for analyzing imaging data and extracting quantitative features that aid in patient stratification, treatment planning, and therapy response assessment, aligning with the growing emphasis on personalized medicine. Image-guided interventions, such as image-guided biopsies and preoperative localization procedures, are commonly performed in breast cancer management. Oncology imaging software supports these interventions by providing real-time image guidance, facilitating accurate targeting, and minimally invasive procedures.
Oncology Imaging Software Market by Imaging Technique
Based on the imaging technique, the global oncology imaging software market is segmented into computed tomography scans (CT-Scans), mammography, PET/SPECT, magnetic resonance imaging (MRI), and others.
CT scans account for notable revenue shares in the global market. CT scans are extensively used in oncology for various purposes, including cancer diagnosis, staging, treatment planning, and monitoring. CT imaging provides detailed cross-sectional images of the body, allowing clinicians to visualize tumors, assess their size, location, and extent, and evaluate the response to therapy. The versatility and broad range of applications make CT scans a crucial imaging modality in oncology, leading to a larger market share for software specifically designed for CT image analysis. Oncology imaging software tailored for CT scans addresses the need for advanced tools to handle large amounts of CT image data and support accurate diagnosis and treatment decisions. Advances in CT imaging technology, such as multi-detector row CT (MDCT), dual-energy CT (DECT), and iterative reconstruction algorithms, have expanded the capabilities of CT scans in oncology. These techniques improve image quality, reduce radiation dose, and enable functional imaging, enhancing the diagnostic accuracy and clinical utility of CT scans.
Oncology Imaging Software Market by Mode of Delivery
Based on the mode of delivery, the global oncology imaging software market is bifurcated into on-cloud and on-premise.
On-cloud accounts for a sizeable revenue share in the global market. The on-cloud model offers cost advantages and scalability compared to traditional on-premises software. Healthcare institutions can avoid upfront infrastructure costs, such as purchasing and maintaining expensive hardware, by opting for cloud-based solutions. Cloud-based solutions provide a centralized platform for storing, managing, and accessing oncology imaging data. This centralization allows for easier integration with other systems, such as electronic health records (EHRs) and picture archiving and communication systems (PACS), enhancing data interoperability and streamlining workflows. Additionally, software vendors can seamlessly deploy updates and new features in the cloud, ensuring users can access the latest functionalities and improvements without disruptions. This reduces the burden on healthcare IT staff and ensures that healthcare institutions use the most up-to-date software. Cloud-based solutions provide a flexible environment for integrating and leveraging advanced technologies like artificial intelligence (AI) and machine learning (ML). Cloud infrastructure offers the computational power and scalability necessary to process large datasets and train AI algorithms for tasks such as image analysis, tumor detection, and treatment planning, enabling more advanced and automated analysis capabilities within the oncology imaging software.
Oncology Imaging Software Market by Region
Based on the region, the global oncology imaging software market is segmented into North America, Europe, Asia Pacific, Latin America, and Middle East & Africa.
Asia Pacific region is expected to grow at a CAGR of 5.5% during the forecast period. Asia Pacific has experienced a significant rise in cancer incidence and prevalence in recent years. Factors such as population growth, aging populations, changing lifestyles, and environmental factors contribute to the increasing cancer burden in the region. This growing prevalence of cancer creates a demand for advanced oncology imaging software solutions to support early detection, accurate diagnosis, and effective treatment planning. Many countries in the Asia Pacific are investing in healthcare infrastructure development, including expanding medical imaging facilities and adopting advanced imaging technologies. This infrastructure development enables better access to oncology imaging services and drives the demand for oncology imaging software to support the growing number of imaging procedures. Asia Pacific has witnessed increased adoption of digital health technologies, including healthcare IT systems and telemedicine. This adoption creates a favorable environment for the implementation of oncology imaging software as healthcare providers embrace digital solutions to enhance the efficiency, accuracy, and accessibility of cancer diagnosis and treatment. Asia Pacific is witnessing significant technological advancements in medical imaging, including oncology imaging software. Collaborations between academic institutions, research organizations, and technology companies drive innovation and the development of advanced imaging solutions in the region. These advancements contribute to the growth of the oncology imaging software market in the Asia Pacific. Governments in the Asia Pacific are increasingly recognizing the importance of cancer care and investing in initiatives to improve cancer diagnosis and treatment.
Competitive Landscape
The prominent players operating in the global oncology imaging software market are:
Beckton, Dickinson, and Company
Thermo Fisher Scientific Inc.
Koninklijke Philips N.V.
Hologic Corporation
F. Hoffmann-La Roche AG
Illumina, Inc.
Hitachi Medical Corporation
Strategic Development
In February 2023, Varian, a Siemens Healthineers company, signed a strategic agreement with Nova Scotia Health to lead the digital transformation of the health system's comprehensive oncology service line. The five-year Oncology Transformation Project (OTP) will build on and integrate Nova Scotia Health's existing Varian software capabilities to create a unified, connected network of multi-disciplinary oncology software and services to support patient care across eight centers, including regional centers across the province.
In January 2023, Based in Culver City, Avenda Health was granted FDA approval for its iQuest patient management software, which detects and visualizes prostate cancer. The iQuest, which is powered by artificial intelligence, distinguishes itself through patient-specific diagnostic information and deep-learning algorithms.
Frequently Asked Questions About This Report
Asia Pacific is the fastest-growing region in the global market.
The breast cancer segment dominates the global oncology imaging software market with the largest revenue share.
The estimated revenue CAGR of the global oncology imaging software market is 5.06%
Data security and privacy concerns and limited access to advanced imaging technologies are some of the hurdles in the market.
Some of the market players in the global oncology imaging software market are GE Healthcare, Abbott Laboratories Inc., Thermo Fisher Scientific Inc., and other notable players.