Medical Holography Market Scope
| | |
| --- | --- |
| Report Attribute | Details |
| Market Size Value in 2022 | US$ 1.02 billion |
| Revenue Forecast in 2031 | US$ 7.38 billion |
| CAGR | 24.6% |
| Base Year for Estimation | 2022 |
| Forecast Period | 2023 to 2031 |
| Historical Year | 2021 |
| Segments Covered | Product Type, Application, End User, and Region |
| Regional Scope | North America, Europe, Asia Pacific, Latin America, and the Middle East & Africa |
Report Overview
According to the deep-dive market assessment study by Growth Plus Reports, the global Medical Holography market was valued at US$ 1.02 billion in 2022 and is expected to register a revenue CAGR of 24.6% to reach US$ 7.38 billion by 2031.
Medical Holography Market Fundamentals
Medical holography is a cutting-edge technology that combines the principles of holography with medicine to create three-dimensional (3D) representations of anatomical structures and medical data. It offers healthcare professionals an advanced visualization tool that enhances their understanding and interaction with medical images, facilitating improved diagnosis, treatment planning, and education. Medical holography relies on the principles of holography, a technique that captures the interference patterns of light waves to create a realistic, 3D representation of an object. In the context of medicine, holography is used to create holograms of various medical images, such as computed tomography (CT) scans, magnetic resonance imaging (MRI) scans, ultrasound images, and microscopy data.
The research study on the medical holography market overview thoroughly analyzes the market, along with the aspects that either help or hinder the market's growth, such as its drivers, challenges, and opportunities. The research also discusses the list of businesses that operate in this market and their efforts to establish themselves as major players through expansion plans and innovative ideas. It also emphasizes current events that support the market's revenue expansion. The research also analyses how the COVID-19 pandemic has affected society.
This report is an important tool for the industry stakeholders to gather all the information about the market, customers, and competition. The report also provides the readers with valuable insights on the segmentation, regions, market size & forecast, revenue CAGRs, and other valuable data to help make informed strategic decisions. The study compiles information gathered from industry participants and specialists across the industry value chain. The report also taps into the qualitative and quantitative assessments by industry analysts. Our reports use different methods for estimating the market size and forecast, including secondary research, surveys and interviews, and statistical modeling. With these steps, our reports provide the most accurate market data. These datasets will cumulatively provide in-depth medical holography market forecast to the industry stakeholders.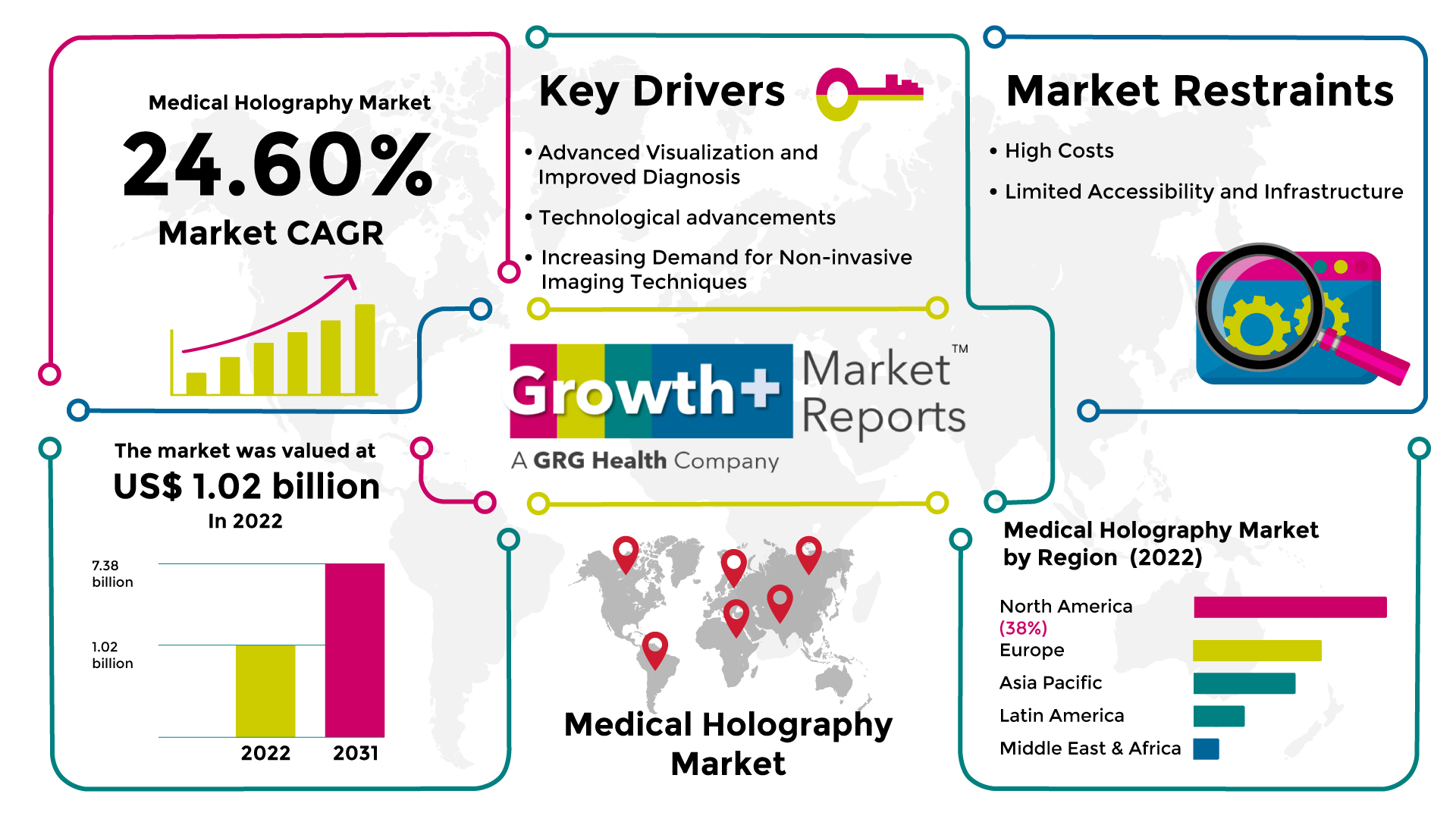 Medical Holography Market Dynamics
One of the primary reasons driving the growth of the global medical holography market is the rising need for non-invasive and radiation-free imaging techniques. Holography is a non-invasive imaging technique for producing three-dimensional photographs of things. This makes it a possible alternative to existing imaging procedures, such as X-rays and MRIs, that can damage patients. Additionally, rapid advancements in holographic display technologies, such as augmented reality (AR) and virtual reality (VR), contribute to the growth of the medical holography market. These technologies provide more immersive and interactive experiences, allowing healthcare professionals to manipulate and interact with holographic images in real time. Additionally, improvements in image processing algorithms and software enhance the accuracy and quality of medical holograms. For instance, In Nov 2022, GE Healthcare and MediView XR, an augmented reality med-tech business, announced cooperation to co-develop the OmnifyXR Interventional Suite System. It will integrate medical imaging and mixed-reality technologies to aid physicians and their care teams.
Additionally, high costs and limited accessibility and infrastructure are some restraints impeding the overall chronic brain damage management market growth.
Medical Holography Market Ecosystem
Medical Holography Market, by Product Type
Holographic Displays
Holography Microscopes
Holographic Prints
Holographic Software
Others
Medical Holography Market, by Applications
Imaging in Medical Indications
Medical Education
Others
Medical Holography Market, by End User
Hospitals and Clinics
Biopharmaceutical Companies
Others
Medical Holography Market by Product Type
The holographic displays segment dominated the market with the largest revenue share in 2022. Holographic displays refer to specialized devices used to project and visualize medical holograms. These displays are crucial in presenting holographic representations of medical images and data to healthcare professionals, patients, and medical students. Holographic displays enable the perception of three-dimensional depth and spatial relationships, enhancing the understanding and interaction with medical holograms. The holographic displays used in medical holography are continuously evolving and improving. Key advancements focus on increasing resolution, improving color reproduction, enhancing brightness, and expanding the field of view. These advancements aim to deliver more realistic and immersive holographic experiences for healthcare professionals and patients.
Segmentation of the market refers to the division of the industry into subgroups based on factors such as product type, application, and end user. Market segmentation data helps businesses to understand the preferences and unique needs of different customer groups and develop targeted sales strategies. This information also helps in identifying potential medical holography market growth opportunities.
Medical Holography Market by Region
North America dominated the global medical holography market with the largest revenue share of about 38% in 2022, owing to the presence of key market players, technological advancements, and continuous product launches. North America fosters collaboration between healthcare providers, technology companies, and academic institutions. Partnerships between hospitals, medical schools, and technology companies allow for developing and validating medical holography solutions. Such collaborations accelerate the adoption of medical holography and drive market growth. Additionally, North America is known for its technological advancements and investments in research and development. The region has a robust ecosystem of technology companies, startups, and academic institutions focused on medical imaging, augmented reality (AR), and virtual reality (VR) technologies.,
Based on the regions, the global medical holography market is segmented into:
North America
Europe

Germany
United Kingdom
France
Spain
Italy
Rest of Europe

Asia Pacific

Japan
China
India
South Korea
Australia
Rest of Asia Pacific

Latin America

Brazil
Mexico
Argentina
Rest of Latin America

Middle East & Africa

GCC
South Africa
Rest of Middle East & Africa
Regional demarcation of the industry will provide information on geographic pockets regarding the medical holography market outlook, size, share, and growth rate. This data helps businesses evaluate the expansion potential into new regional markets, understand the competitive threats across different regions, and develop localized sales and expansion strategies.
Key Components of the Report
In-depth review of the prevalent market trends
Annualized market size and forecast of every segment across 5 regions and 14 countries from 2021 to 2031.
Market-specific analysis of the segments on a global level and further elaboration of trends in each region and country
Competitive landscape of key players in the global market, based on market share or competitive positioning.
Profiles of major market players based on the business landscape, financial growth, and depth of product portfolio.
Medical Holography Market Competitive Landscape
EON Reality Inc.
Ovizio
Lyncee Tec
Nanolive SA
Phase Holographic Imaging PHI AB
RealView Imaging Ltd
zSpace Inc.
The market competitive landscape is performed by collecting and analyzing information about the key competitors, the present industry trends, and market dynamics. It includes information collection and analysis on factors such as products, pricing, geographic outreach, customer demographics, marketing strategies, and recent developments. Competitive landscape assessment will help businesses identify the current prevalent or potential opportunities and threats keeping in mind the medical holography industry trends.
Medical Holography Market Strategic Developments
In June 2022, Bruker Corporation announced the availability of the NeuraLight 3D Ultra module, which will facilitate advanced neuroscience and optogenetics research applications on Bruker's Ultima multiphoton microscopes. NeuraLight 3D Ultra offers groundbreaking 3D holographic photostimulation that is especially suited for functional and large-scale research of neural networks and brain computation. The NeuraLight 3D Ultra module, based on Bruker's unique spatial light modulator (SLM) technology, employs a new, bigger liquid crystal chip that enables access to a broader field of vision, increased aiming precision, and a market-leading speed of 600 hologram frames per second.
In August 2021, RealView Imaging Ltd. announced that their HOLOSCOPE-i holographic system had gained approval for FDA 510(k). The technology generates spatially correct, three-dimensional interactive medical holograms based on data from regular CT scans and 3D ultrasound devices. The HOLOSCOPE-i is the first and only medical holography system that offers physicians a natural 3D visualization experience, allowing direct and precise interaction with dynamic holograms of the patient's true anatomy floating in free space and within reach prior to and during interventional procedures.
In July 2020, RealView Imaging, an Israeli medical holography business, secured a $10 million Series C fundraising round. RealView is actively developing the HOLOSCOPE-x holographic augmented reality (AR) medical technology to enable accurate, minimally invasive interventional treatments. By generating 3D volumetric holograms using medical imaging data, the technology is intended to display 3D holographic pictures into the patient's body.
Key Strengths of Our Report
Forecast till 2031
Cross-sectional Coverage Across 14 Countries
Consumer Level Segmentation
Regulatory Landscape
Key Cross Competition
Unmet Needs
Market Attractiveness
Analysis of Pipeline Prospects
Market Drivers and Challenges
Target Audience to Benefit from this Report.
New entrants to the market, start-ups, investors, and equity firms
Manufacturers, distributors, developers, and regulators of products. Research and consulting firms
Associations and governmental bodies
Business associations, forums, lobbying groups, and reporting organizations
Reasons to Buy this Report
Detailed analysis of the impact of the COVID-19 pandemic on the global medical holography market
Develop your growth strategies by reviewing the prevalent market trends, innovations, segment analysis, regional market landscape, and future opportunities.
Information on relevant laws and regulations that impact the market, such as product safety standards or import/export regulations.
Understanding the market's future competitive landscape and providing an insightful analysis of the major industry drivers and obstacles.
Identify the competitive landscape of the global market and understand the intensity of competition.
Finding established and promising new competitors in the market will aid in creating competitive advantage tactics.
Track the revenue growth of the global, regional, and country-level markets and make effective expansion decisions.
Strategize sales and marketing goals by determining the most premium opportunities in the medical holography market.
Evaluate potential return on investment for new products or services by analyzing CAGR data, businesses can evaluate the potential return on investment.
Our robust sources and research methodologies deliver accurate market sizing and forecast, which are further validated by authentic primary sources, including CMOs from major market players and key opinion leaders.
Frequently Asked Questions About This Report
Medical holography is a cutting-edge technology that combines the principles of holography with medicine to create three-dimensional (3D) representations of anatomical structures and medical data.
The global medical holography market was valued at US$ 1.02 billion in 2022.
North American region will have the largest medical holography market size during the forecast period from 2023 to 2031.
The revenue CAGR of the medical holography market during the forecast period will be 24.6% from 2023 to 2031.
Increasing demand for non-invasive imaging techniques is the most prominent medical holography industry trend.
The high costs and limited accessibility and infrastructure are some key challenges hampering the growth of the global medical holography market.
Technological advancements and the increasing prevalence of brain injuries are growth opportunities in the global medical holography market.
Some of the prominent players in the medical holography market are Lyncee Tec, Nanolive SA, Phase Holographic Imaging PHI AB, RealView Imaging Ltd., zSpace Inc.
The holographic displays segment has the highest share in the global medical holography market.