CRISPR Technology Market Scope
| | |
| --- | --- |
| Report Attribute | Details |
| Market Size Value in 2022 | US$ 1.04 billion |
| Revenue Forecast in 2031 | US$ 6.61 billion |
| CAGR | 22.8% |
| Base Year for Estimation | 2022 |
| Forecast Period | 2023-2031 |
| Historical Year | 2021 |
| Segments Covered | Products And Services, Application, End User, and Region |
| Regional Scope | North America, Europe, Asia Pacific, Latin America, and the Middle East & Africa |
Report Overview
According to the deep-dive market assessment study by Growth Plus Reports, the CRISPR technology market was valued at US$ 1.04 billion in 2022 and is expected to register a revenue CAGR of 22.8% to reach US$ 6.61 billion by 2031.
CRISPR Technology Market Fundamentals
CRISPR stands for Clustered Regularly Interspaced Short Palindromic Repeats. Genome editing is made possible by CRISPR technology. The CRISPR-associated protein, or Cas9 protein, functions as a molecular scissor that can be used to cut DNA strands. Researchers can readily change DNA sequences and adjust gene function thanks to CRISPR. A gene can also be turned on and off using it without changing its sequence. CRISPR-Cas9 was developed from a genome editing mechanism that occurs naturally in bacteria and archaea. CRISPR has a wide range of potential uses, including repairing genetic flaws, enhancing crops, and stopping and treating the spread of disease. CRISPR technology is being studied for its potential to treat various illnesses, including cancer, blood problems, hereditary blindness, HIV, cystic fibrosis, and Duchenne's muscular dystrophy. Additionally, CRISPR can be used to genetically change crops or foods to make them more pest-resistant, prolong their shelf life, and enhance their nutritional value. The majority of CRISPR research currently being done uses mice and human cells.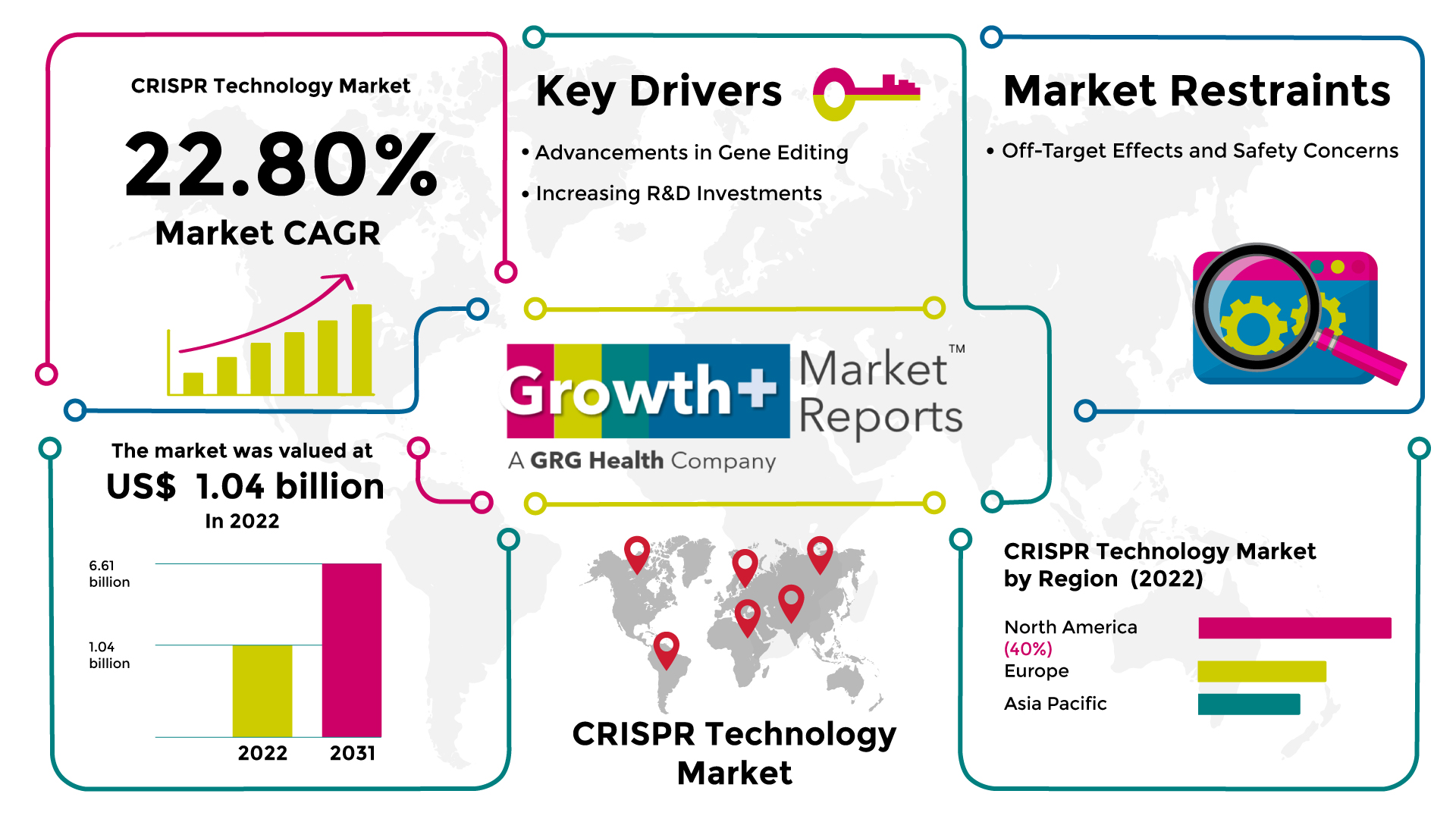 CRISPR Technology Market Dynamics
CRISPR technology has gained significant attention in the field of biotechnology and presents several growth drivers. CRISPR technology offers a powerful and precise tool for gene editing, allowing researchers to modify and edit DNA sequences with unprecedented accuracy and efficiency. Over the projected period, the growing number of ongoing clinical studies worldwide is anticipated to fuel the expansion of the worldwide CRISPR technology market. For instance, in March 2021, researchers from the Universities of California, San Francisco, Berkeley, and Los Angeles (UC San Francisco, UC Berkeley, and UCLA, respectively) had received FDA approval to begin a joint early-stage, first-in-human clinical trial of a CRISPR gene correction therapy in sickle cell disease (SCD) patients using the patient's blood-forming stem cells. The market is growing due to the potential uses of CRISPR in gene therapy, genetic engineering, and the treatment of diseases. The use of CRISPR technology as a diagnostic tool is anticipated to drive market growth during this time. The Sherlock CRISPR SARS-CoV-2 kit is the first diagnostic tool for infectious diseases brought on by COVID-19 that is based on CRISPR technology. The Sherlock CRISPR SARS-CoV-2 kit from Sherlock BioSciences Inc., a CRISPR-based SHERLOCK (Specific High-sensitivity Enzymatic Reporter unLOCKing) diagnostic test, received an emergency use authorization from the FDA in May 2020. This test aids in particularly identifying RNA or DNA sequences of the SARS-CoV-2 virus in specimens or samples such as fluid from lungs in bronchoalveolar lavage specimens and nasal swabs from the upper respiratory tract. Several improvements in CRISPR technology are currently popular in the market. Technology advancements will aid in generating gene therapies, limiting unexpected consequences, increasing tool accuracy, extending tool's applications, and more. According to a paper published in Springer Nature in 2020, scientists have improved the error-prone CRISPR-Cas9 system's accuracy by using enzyme engineering. This allows them to precisely target DNA without causing as many unintended changes as possible. Over the forecast period, an increase in the development of innovative treatments is anticipated to fuel market expansion for CRISPR technology. For instance, the need for safe and effective treatments is rising quickly in tandem with the disease burden. A research partnership between Cyrus Biotechnology, Inc. and the Broad Institute of MIT and Harvard was started in December 2019 to improve CRISPR for application in creating innovative therapies.
One of the major challenges associated with CRISPR technology is the potential for off-target effects, where unintended edits can occur in the genome. Ensuring the safety and accuracy of CRISPR-mediated gene editing is crucial, and further research is needed to minimize off-target effects and potential long-term consequences.
CRISPR Technology Market Ecosystem
The global CRISPR technology market is analyzed from the following perspectives: products and services, application, end user, and region.
CRISPR Technology Market by Products & Services
The CRISPR technology market is segmented based on the type of CRISPR products and services. The CRISPR products segment is further sub-segmented into CRISPR enzymes, kits, libraries, and other products. The CRISPR services segment is further sub-segmented into gRNA design & vector construction, screening services, cell line engineering, and other services.
The CRISPR services segment is projected to register a high revenue CAGR during the forecast period. This segment's high revenue share can be ascribed to the growing number of research projects that have resulted from the increased uses of CRISPR technologies.
CRISPR Technology Market by Application
Based on the application, the CRISPR technology market is segmented into biomedical applications, industrial applications, agricultural applications, and other applications.
The biomedical applications segment accounts for the highest revenue share in the global CRISPR technology market. Genome engineering, research on disease models, functional genomics, and epigenetics are all included in this section. The CRISPR/Cas9 system is widely and productively used for biomedical discoveries in a variety of fields, including sensing nucleic-acid-based biomarkers of infectious and non-infectious disorders and identifying mutations and deletions suggestive of genetic diseases. The growing use of CRISPR gene-editing technologies in a number of biomedical sciences fields influenced this segment's high market share. Genome editing has become quick and accurate with the development of CRISPR/Cas9 nuclease. The effectiveness and specificity of this technique were also increased by adding nano-carriers and better delivery methods. As a result, it is being used increasingly in gene and cell therapy.
Additionally, CRISPR has several uses in the biomedical sciences. For instance, genome engineering based on CRISPR-Cas9 is frequently employed in regenerative medicine. The expedited tracking of CAR T-cell targets, and the creation of sick models can also enhance cancer immunotherapy. It also has therapeutic applications, including the treatment of genetic abnormalities, medication development, and the discovery cancer biomarkers. For instance, according to the article published in Nature in June 2021, early findings from a significant clinical trial revealed that directly administering CRISPR-Cas9 gene editing therapy into the human body is a safe and efficient way to treat a rare, life-threatening ailment.
CRISPR Technology Market by End User
Based on the end user, the CRISPR technology market is segmented into pharmaceutical & biotechnology companies, contract research organizations (CROs), and academic & research institutes.
The pharmaceutical & biotechnology companies segment accounts for the largest revenue share in the market. A few of the variables influencing the segmental revenue growth are the rising need for medications that can be used to treat various disorders, such as cancer, and rising research efforts in pharma & biotech firms.
CRISPR Technology Market by Region
Geographically, the global CRISPR technology market has been segmented into North America, Europe, Asia Pacific, Latin America, and the Middle East & Africa.
North America accounts for a significant revenue share of 40% in the global CRISPR technology market. This is a result of technological advancements, governmental regulations, product approvals, and significant market player initiatives, and technology has many benefits. According to the National Cancer Institute article from July 2020, the University of Pennsylvania launched the first trial in the United States to examine the safety of CRISPR-made cancer medication. The study's preliminary findings revealed that CRISPR-based therapies were secure because there was no proof that the CRISPR-edited cells triggered an immune response. These initiatives by the researchers opened the door for additional studies using CRISPR technology to address unmet healthcare needs and produce the profitable potential for commercial expansion in this area. Health Canada put up new recommendations for the Novel Food Regulations in March 2021, focusing on plant breeding. Gene-editing technology used in agriculture is just as secure as traditional plant breeding. Plant breeders and businesses involved in crop science now have more assurance thanks to these recommendations. Such government actions are anticipated to increase the CRISPR market by expanding its applications.
Furthermore, due to technological advancements and uses, rivalry among the current players has intensified. There is a greater emphasis on this flexible technology. For instance, CRISPR Therapeutics' CTX110, an entirely owned gene-edited allogeneic CAR-T cell treatment that targets CD19+ B-cell malignancies, was granted the Regenerative Medicine Advanced treatment (RMAT) designation by the US Food and Drug Administration (FDA) in November 2021. Effective therapies could be made possible by such advancements, thereby accelerating the market's growth.
The CRISPR technology market in the Asia Pacific region is expected to experience significant growth due to several factors. The pharmaceutical and biotechnology industries have expanded significantly in the Asia Pacific area. Biotechnology research and development investments have been significant in nations including China, Japan, South Korea, and India. As a result, CRISPR technology and its applications are receiving more attention, which is causing the market to rise. Reputable academic and research institutions that are actively working on CRISPR research and its applications may be found throughout the Asia Pacific. These organizations collaborate with key participants in the market to create CRISPR-based technologies and treatments, which furthers market expansion.
CRISPR Technology Market Competitive Landscape
The prominent players operating in the global CRISPR technology market are:
Integrated DNA Technologies, Inc.
Corteva
ToolGen Inc.
Synthego
OriGene Technologies, Inc.
CRISPR Technology Market Strategic Developments
In March 2023, the food business Pairwise introduced Conscious Greens, the first product under the Conscious Foods brand. Gene editing using CRISPR technology was used to create the product. Purple Power Baby Greens Blend from the business is a combination of vibrant Superfood leafy greens with up to twice as many vitamins and minerals as Romaine and a distinctive, fresh flavor.
In March 2021, the US Food and Drug Administration gave scientists at UC San Francisco, UC Berkeley, and UCLA permission to jointly begin an early phase, first-in-human clinical trial of a CRISPR gene repair therapy in patients with sickle cell disease using the patient's blood-forming stem cells.
In June 2021, New data on twenty-two patients treated with CTX001 (an experimental CRISPR/Cas9-based gene-editing therapy), with follow-ups of at least three months and ranging from four months to 26 months, was released by Vertex Pharmaceuticals Incorporated and CRISPR Therapeutics.
Frequently Asked Questions About This Report
A groundbreaking gene editing method that enables precise alterations to an organism's DNA is CRISPR (Clustered Regularly Interspaced Short Palindromic Repeats) technology. It is derived from a defense mechanism that naturally exists in bacteria and archaea to protect them from viral infections.
The global CRISPR technology market during the forecast period is expected to grow at a revenue CAGR of 22.8%.
Thermo Fisher Scientific Inc., Agilent Technologies, Inc., Merck KGaA, Cellecta Inc., and Integrated DNA Technologies, Inc are the major players in the CRISPR technology market.
The Asia Pacific region is projected to grow at a high revenue CAGR in the global CRISPR technology market.
Efficient and targeted delivery of CRISPR components to specific tissues and cells remains challenging. Developing effective delivery systems that can efficiently transport CRISPR components to the desired sites within the body is crucial for successful gene editing applications. Overcoming delivery challenges is essential for the broader adoption of CRISPR technology.