ePharmacy Market Scope
| | |
| --- | --- |
| Report Attribute | Details |
| Market Size Value in 2022 | US$ 58.93 billion |
| Revenue Forecast in 2031 | US$ 283.07 billion |
| CAGR | 19.05% |
| Base Year for Estimation | 2022 |
| Forecast Period | 2023 to 2031 |
| Historical Year | 2021 |
| Segments Covered | Drug Type, Product, and Region |
| Regional Scope | North America, Europe, Asia Pacific, Latin America, and the Middle East & Africa |
Report Overview
According to the deep-dive market assessment study by Growth Plus Reports, the global ePharmacy market was valued at US$ 58.93 billion in 2022 and is expected to register a revenue CAGR of 19.05% to reach US$ 283.07 billion by 2031.
ePharmacy Market Fundamentals
ePharmacy, also known as online pharmacy or internet pharmacy, refers to the practice of selling medications and healthcare products through online platforms. It involves the purchase and delivery of prescription and over-the-counter (OTC) medications, as well as other healthcare-related items, via the internet. ePharmacies offer a convenient alternative to traditional brick-and-mortar pharmacies, allowing customers to order medications from the comfort of their homes and have them delivered to their doorstep. These platforms typically account the defined websites or mobile applications where customers can browse and select products, provide prescription information, make payments, and choose delivery options.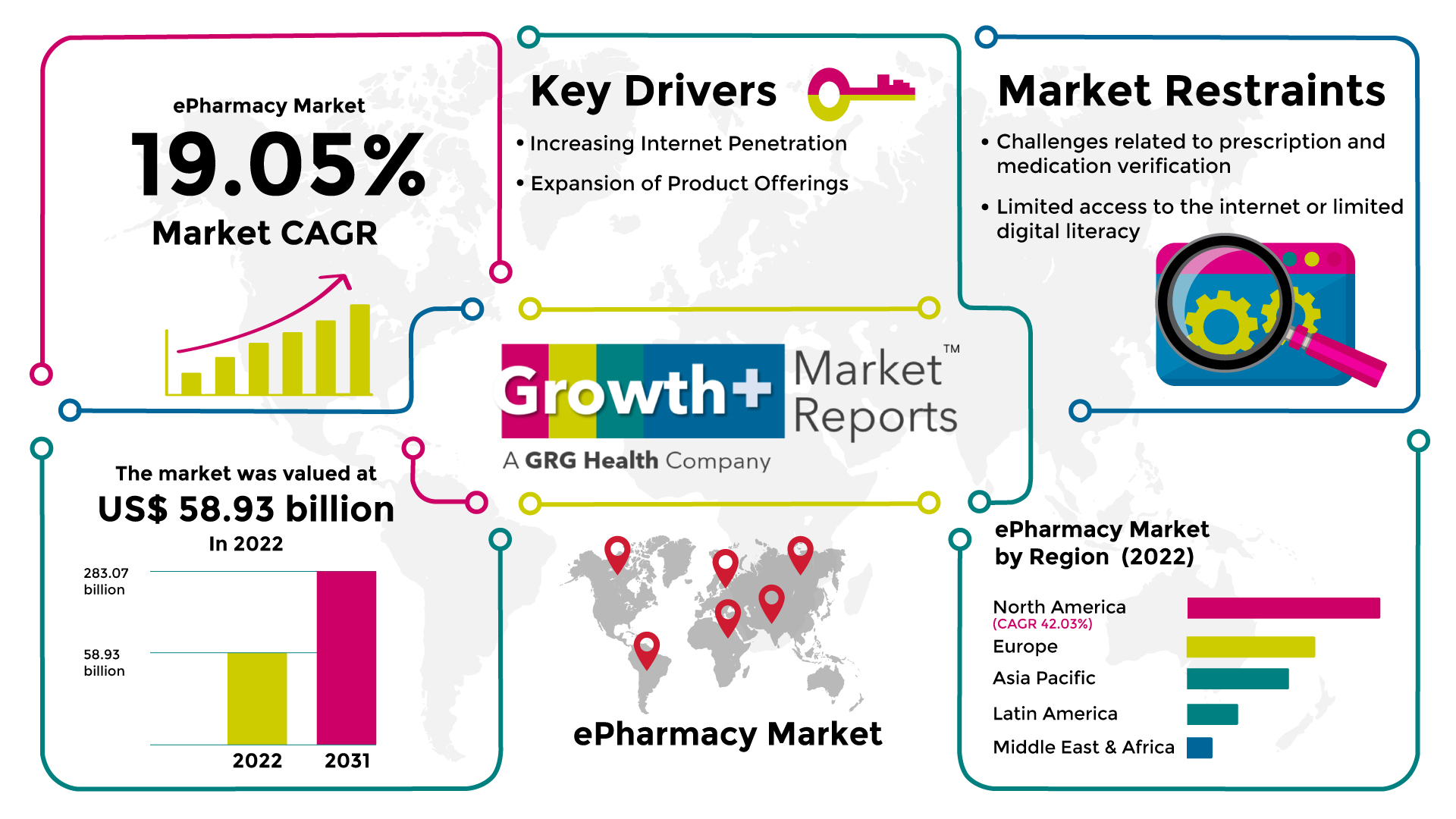 ePharmacy Market Dynamics
The widespread availability of the internet and the growing adoption of smartphones have made it easier for consumers to access online platforms. This increased internet penetration has expanded the potential customer base for ePharmacies, enabling them to reach a larger audience. One of the primary drivers of the ePharmacy market is the convenience it offers to consumers. Online platforms provide 24/7 access to a wide range of medications and healthcare products from the comfort of one's home. This convenience is particularly beneficial for individuals with limited mobility, chronic illnesses, or those residing in remote areas. The increasing cost of healthcare, including prescription medications, has prompted consumers to seek more affordable options. ePharmacies often offer competitive pricing and discounts, making healthcare more accessible and affordable for a broader population.
Additionally, the global population is aging, leading to a higher demand for medications and healthcare services. For instance, according to United States Census Bureau, with the help of American Community Survey conducted in 2021, it was estimated that nearly 55,892,014 people were aged 65 and above in the U.S. out of a total population of 331,893,745, or 16.8%. Elderly individuals, who may have multiple chronic conditions and mobility challenges, find ePharmacies convenient for ordering their medications and receiving home delivery. Advancements in technology, such as secure online transactions, electronic prescriptions, and digital health records, have facilitated the growth of ePharmacies. Integration with telemedicine platforms and the use of artificial intelligence (AI) for personalized recommendations further enhance the user experience. The COVID-19 pandemic has accelerated the adoption of ePharmacies due to lockdowns, social distancing measures, and concerns about visiting physical stores. Many consumers turned to online platforms to ensure a steady supply of medications and reduce their exposure to the virus. ePharmacies are diversifying their product offerings beyond prescription medications to include OTC products, health supplements, personal care items, and wellness products. This expansion broadens their customer base and increases revenue opportunities.
Despite increasing internet penetration, there are still regions and populations with limited access to the internet or limited digital literacy. The digital divide can create barriers for certain individuals, particularly the elderly, low-income populations, and rural communities, limiting their participation in the ePharmacy market. The risk of counterfeit medications is a significant concern in the ePharmacy market. Ensuring the authenticity and quality of medications sold online requires strict quality control measures, reliable sourcing from authorized suppliers, and proper storage and handling practices. Certain medications, especially controlled substances and those with potential for misuse or abuse, may be subject to strict regulations and limited availability for online sale. Compliance with regulatory restrictions and ensuring appropriate access to these medications while preventing misuse can be challenging for ePharmacies. Traditional brick-and-mortar pharmacies continue to be significant competitors for ePharmacies. Established community pharmacies may offer personalized services, face-to-face consultations, and immediate access to medications, which can be appealing to some customers. ePharmacies need to differentiate themselves by emphasizing convenience, competitive pricing, additional services, and reliable customer support.
ePharmacy Market Ecosystem
The global ePharmacy market has been analyzed from the following perspectives: by drug type, product, and region.
ePharmacy Market by Drug Type
Based on the drug type, the global ePharmacy market is segmented into over-the-counter (OTC) drugs and prescription drugs.
Over-the-counter drugs segment dominates the global market with the largest revenue share. OTC drugs are medications that can be purchased without a prescription. They are commonly used for self-treatment of minor ailments, such as headaches, allergies, and common colds. The OTC drugs segment encompasses a broad range of products, including pain relievers, cough and cold medications, antacids, allergy medications, vitamins, and skincare products. The availability of OTC drugs through ePharmacies empowers consumers to take charge of their healthcare. They can research and select the most suitable medication for their symptoms, read product information, compare prices, and make informed decisions about their self-care needs. OTC drugs are generally more affordable compared to prescription medications. ePharmacies often offer competitive pricing and discounts on OTC products, making them even more cost-effective for consumers. This affordability factor encourages customers to purchase OTC drugs online. Many conditions treated with OTC drugs are non-critical or self-limiting in nature, such as minor pain, allergies, or heartburn. These conditions do not typically require a prescription or consultation with a healthcare professional. ePharmacies provide a convenient channel for individuals to address such non-emergency health concerns. OTC drugs generally do not require personalized dosing or specialized medical advice. They are designed for common symptoms or general health needs. OTC drugs are subject to different regulatory requirements compared to prescription medications. The regulations for selling OTC drugs through ePharmacies may be less stringent, making it easier for online platforms to comply with the necessary legal and licensing requirements.
ePharmacy Market by Product
Based on the product, the global ePharmacy market is segmented into cold & flu, skin care, vitamins, dental, and others.
Skin care is a rapidly growing market globally, driven by increasing consumer awareness about the importance of skin health and appearance. Skin care products cater to a wide range of needs, including moisturizing, anti-aging, acne treatment, sun protection, and general skin maintenance. The popularity and high demand for skin care products translate into a dominant position for the skin care segment in the ePharmacy market. The skin care segment encompasses a vast array of products, including cleansers, moisturizers, serums, masks, sunscreens, and specialized treatments. ePharmacies offer a wide variety of skin care brands, formulations, and price ranges, providing customers with ample choices and the convenience of comparing and selecting products that suit their specific skin care needs.
In recent years, there has been a growing emphasis on self-care and wellness, with individuals seeking products and routines that promote their overall well-being, including skin health. ePharmacies cater to this trend by offering a curated selection of skin care products that align with consumer preferences for natural, organic, and sustainable options. Customers can browse through online catalogs, read product descriptions and reviews, and make purchases at any time, from the comfort of their homes. The ease of access and convenience offered by ePharmacies contributes to the dominance of the skin care segment. Reputable ePharmacies often provide educational resources, expert advice, and product information to guide customers in their skin care journey. These platforms offer detailed descriptions, ingredient lists, customer reviews, and sometimes even virtual consultations with skincare professionals. Such resources enhance customer confidence and enable informed decision-making, further boosting the demand for skin care products through ePharmacies. The rise of social media platforms and beauty influencers has significantly impacted the skin care industry. Many consumers seek product recommendations and follow skincare trends through social media channels. ePharmacies leverage this influence by featuring popular skincare brands, collaborations with influencers, and curated collections, attracting consumers who want to try the latest skin care products. ePharmacies often provide customer reviews and ratings for skin care products, allowing shoppers to gain insights into the efficacy and satisfaction levels of various products. Positive reviews and ratings play a significant role in influencing purchasing decisions, contributing to the dominance of the skin care segment. ePharmacies leverage data analytics and personalized marketing strategies to target consumers based on their skin type, concerns, and preferences. By tailoring product recommendations and promotions to individual needs, ePharmacies enhance the shopping experience and drive the sales of skin care products.
ePharmacy Market by Region
Based on the region, the global ePharmacy market is segmented into North America, Europe, Asia Pacific, Latin America, and Middle East & Africa.
North America registered for the largest revenue share in the global market of more than 42.03% in 2022. North America has well-developed technological infrastructure, including high-speed internet connectivity, widespread smartphone adoption, and advanced e-commerce platforms. This facilitates easy access to online services, including ePharmacies, and enhances the overall digital experience for consumers. North American consumers have embraced online shopping across various industries, including healthcare. The convenience, accessibility, and wide range of products offered by ePharmacies align with the preferences of tech-savvy North American consumers, driving the adoption of online pharmacy services. North America has relatively favorable regulatory environments for ePharmacies. The United States and Canada have well-defined regulations and guidelines governing the operation of online pharmacies, ensuring patient safety, data privacy, and quality control. Clear regulatory frameworks provide a conducive environment for ePharmacy businesses to thrive. Consumers in North America have a relatively high level of trust in online platforms and are familiar with online shopping practices. They are more likely to trust ePharmacies that operate in compliance with regulations and have established reputations. Increased awareness of ePharmacy services and the benefits they offer further drives their adoption. The healthcare system in North America, particularly in the United States and Canada, involves a significant role for private insurance companies. Many insurance plans cover prescription medications, and consumers often seek cost-effective alternatives. ePharmacies can offer competitive pricing, discounts, and easier access to medications, making them attractive options for consumers. North America has a large population, and its urban centers are densely populated. ePharmacies benefit from the higher concentration of potential customers in these areas, making the delivery logistics more efficient and cost-effective. North America is home to several prominent ePharmacy companies that have established a strong presence in the market. This competition drives innovation, as companies continuously strive to improve their services, expand their product offerings, and enhance the user experience. The presence of established players contributes to the dominance of North America in the global ePharmacy market.
Competitive Landscape
The prominent players operating in the global ePharmacy market are:
Giant Eagle Inc.
The Kroger Co.
Walgreen Boots Alliance
Amazon.com Inc.
Axelia Solutions
Apex Healthcare Berhad
Apollo Pharmacy
DocMorris
Netmeds.com
Strategic Developments
In March 2021, Co-op Health, a digital prescription service that allows individuals to obtain medication via an app or the web for pickup at a nearby pharmacy or home delivery, was acquired by Phoenix UK.
Frequently Asked Questions About This Report
An ePharmacy, also known as an online pharmacy or internet pharmacy, is a digital platform that allows individuals to purchase medications and healthcare products over the internet. It operates similarly to a traditional pharmacy, but with the added convenience of being able to order products from the comfort of your own home and have them delivered directly to your doorstep.
CVS Health Corporation, Cigna Corporation, and Optum Rx Inc. are some of the major market players in the global ePharmacy market.
Limited access to the internet or limited digital literacy and challenges related to prescription and medication verification are some of the restraints obstructing the growth of the global market.
Over-the-counter (OTC) drugs segment dominates the global ePharmacy market
Increasing internet penetration and the expansion of product offerings are some of the major factors driving the global market.