Endocrine Peptides Testing Market Scope
| | |
| --- | --- |
| Report Attribute | Details |
| Market Size Value in 2022 | US$ 2.48 billion |
| Revenue Forecast in 2031 | US$ 5.05 billion |
| CAGR | 8.20% |
| Base Year For Estimation | 2022 |
| Forecast Period | 2023 to 2031 |
| Historical Year | 2021 |
| Segments Covered | Test Type, End User and Region |
| Regional Scope | North America, Europe, Asia Pacific, Latin America, and the Middle East & Africa |
Report Overview
According to the deep-dive market assessment study by Growth Plus Reports, the global endocrine peptides testing market was valued at US$ 2.48 billion in 2022 and is expected to register a revenue CAGR of 8.20% to reach US$ 5.05 billion by 2031.
Market Fundamentals
C-peptide concentration in the blood is determined using an endocrine peptide test. Both of them are equally abundant in the body, and they are quite similar to insulin. Insulin regulates how much glucose is present. The pancreatic hormone C-peptide is used to gauge insulin secretion. The c-peptide provides a measurement to show insulin levels, allowing users to determine if they are normal or below the recommended levels. C-peptide tests are done to determine the type of diabetes or or vulnerability to diabetes.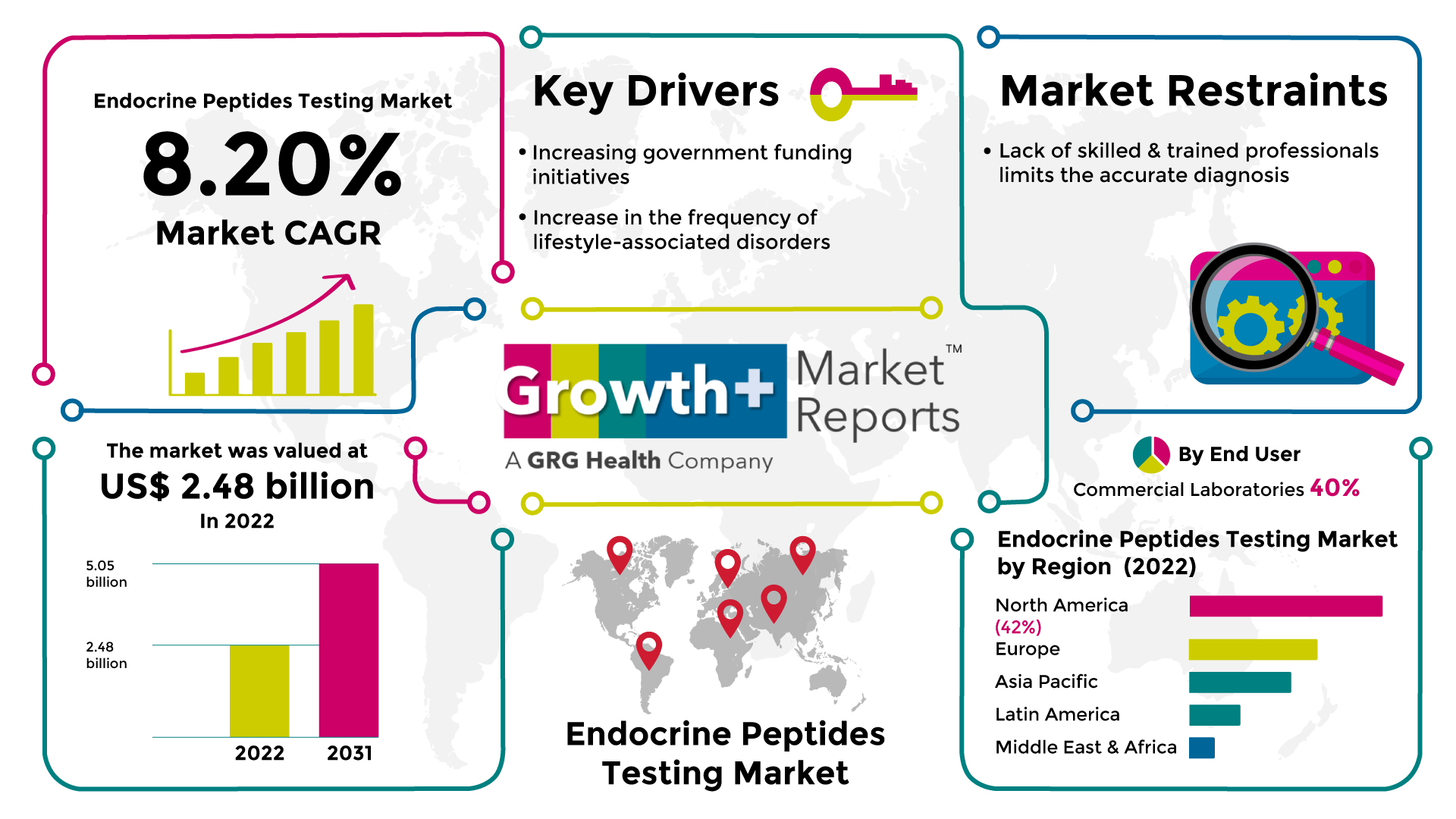 Endocrine Peptides Testing Market Dynamics
Government funding initiatives to increase research activities have been prompted by the prevalence of diabetes, thyroid problems, and obesity worldwide. Additionally, rapid technological advancements have led to the introduction of several detection tests as well as unique products by life science firms. The rise in research and development (R&D) in the medical and clinical diagnostics industry, as well as the accessibility of cutting-edge technologies like biosensors and point-of-care to meet the expanding need for routine health monitoring, are just a few factors contributing to the expansion of the endocrine peptide testing market.
The market for endocrine peptide testing saw a modest increase around the start of the COVID-19 pandemic as a result of the extensive testing for the SARS-CoV2 virus and research aimed at creating tools for detection. As a result, there was a significant decline in endocrine peptide testing and research efforts. Additionally, lab closures contributed to the fall in testing. However, the need to comprehend COVID-19 infection and the knowledge of thyroid hormone's significance in controlling immune response motivated the researchers to examine thyroid function in COVID-19 patients.
For instance, Indonesian researchers conducted a meta-analysis study including 31,339 patients from 21 trials, which they then published in a publication in October 2021. In their comprehensive assessment, the researchers concluded that patients with age and thyroid issues had an elevated risk of COVID-19, which might lead to subpar treatment results. Due to the long-term impacts of COVID-19 infection on the survivors, this knowledge has resurrected normal endocrine peptide testing over the last year and is even anticipated to advance the market throughout the forecast.
Increased health awareness and an increase in the frequency of lifestyle-associated illnesses among adults are driving the demand for endocrine peptide testing. This rise in knowledge has fueled the development of home healthcare and point-of-care (POC) equipment that produces results more quickly and effectively. The cost-effective home healthcare and POC devices are simple to use and aimed at the growing elderly population and adults. The International Diabetes Federation estimates that 537 million people currently have diabetes as of 2021, and that figure will rise to 643 and 783 million by the years 2030 and 2045, respectively. The endocrine peptide testing market will experience a substantial rise due to these illness estimates.
Endocrine Peptides Testing Market Ecosystem
The global endocrine peptide testing market is analyzed from the following perspectives by test type, end user and region.
Endocrine Peptides Testing Market by Test Type
Based on test type, the global endocrine peptide testing market is segmented into estradiol (E2), dehydroepiandrosterone sulfate (DHEAS), human chorionic gonadotropin (hCG), progesterone, luteinizing hormone (LH), thyroid stimulating hormone (TSH), thyroid prolactin, and others
The human chorionic gonadotropin (hCG) segment will likely show significant growth during the forecast period. The need for quantitative hCG estimates at hospitals or laboratories and the prevalence of simple self-test pregnancy kits are factors in the expansion of the hCG test. Additionally, this segment growth is driven by the increased number of pregnant females and the measurement of hCG levels to detect anomalies at various stages of pregnancy. Further, using hCG in treating infertility in both men and women will fuel the expansion of the endocrine testing industry.
Additionally, TSH testing brought in a sizable sum of money in 2021. TSH is a crucial immune response regulator linked to controlling the body's levels of several hormones, including progesterone and hCG. The market expansion for TSH testing is driven by the mentioned functions of TSH and the occurrence of thyroid conditions, including cancer. According to Cancer.Net, more than 43,500 persons will receive a thyroid cancer diagnosis in the United States in 2022.
Endocrine Peptides Testing Market by End User
Based on end user, the global endocrine peptide testing market is segmented into hospitals, physician offices, commercial laboratories, healthcare centers.
Commercial laboratories account for the greatest market share of more than 40% in 2022. The diversity of available test panels and the viability of at-home collection services are enhancing this segment's capacity to generate income. Additionally, it is anticipated that commercial laboratories will have the quickest increase in the upcoming years. This can be attributed to rising health consciousness among people and ongoing endocrine peptide testing to keep track of diseases already present and manage inherited problems that are prone to them. Additionally, these commercial settings' capacity to distribute information via digital media accelerates their upward trajectory.
Endocrine Peptides Testing Market by Region
North America dominated with a share of 42.3% in the global market for endocrine peptide testing in 2022. This may be related to various factors, including the high prevalence of diabetes and obesity, the existence of reimbursing bodies, government financing programs for improving healthcare settings, and the availability of several diagnostic companies.
Additionally, it is understood that obesity is one of the risk factors for developing and assessing various co-morbid diseases. Obesity is a key factor in the rising worries about osteoarthritis, as is an unhealthy body weight combined with inactivity. The Centers for Disease Control and Prevention (CDC) estimated that 41.9% of Americans were obese in 2021. Certain points to a favorable market growth prospect as the frequency and prevalence of certain chronic illnesses encourage the use of endocrine peptide testing.
In addition, it is anticipated that the incidence of endocrine disorders will encourage growth in businesses. Particularly in the United States and other nations with robust nutrition & screening programs for high-risk persons, endocrine and metabolic disorders are among the most prevalent modern human illnesses. Research by the National Centers for Biotechnology Information (NCBI) predicts that in 2022, endocrine problems will affect 5% of adult Americans.
The need for routine endocrine peptide testing in the Asia Pacific region has increased over the past several decades due to the expanding medical and diagnostics sector, improved healthcare infrastructure, the incidence of illness among the older population, and rising personal healthcare spending. In addition, the Asia Pacific area is witnessing increased research activity aimed at bettering illness detection & treatment. This will increase considerably, with Asia Pacific showing the fastest CAGR during the forecast period.
Endocrine Peptides Testing Competitive Landscape
The endocrine peptide testing market has seen an increase in competition due to the introduction of several new products, including instruments, kits, test panels, and the development of new technologies for the detection of hormone levels. For instance, DiaSorin S.p.A. stated in August 2020 that LIAISON Testosterone xt test with CE certification was introduced. This examination will work with the company's LIAISON XL equipment for endocrine assay development to identify both hypogonadism and hyperandrogenism. Some of the prominent market players in the global endocrine peptide testing market include,
F. Hoffmann-La Roche Ltd.
AB Sciex
Thermo Fischer Scientific Inc.
BioMerieux
Agilent Technologies Inc.
bioMerieux SA
DiaSorin S.p.A.
Laboratory Corporation of America Holdings
Ortho Clinical Diagnostics
Endocrine Peptides Testing Strategic Development
In March 2021, the Alinity m Diagnostics System from Abbott Laboratories delivers automation and cutting-edge technologies for immunoassay testing. The system offers rapid turnaround times and high throughput for endocrine and other diagnostic tests. This launch aided the company's introduction of novel products, giving it an added competitive advantage.
In February 2021, the Atellica Solution for Endocrinology by Siemens Healthineers is a complete, completely automated immunoassay system for endocrine testing. For a variety of hormones and indicators, technology delivers accurate and trustworthy findings. The company's product range was bolstered across the market with this new introduction.
Frequently Asked Questions About This Report
C-peptide concentration in the blood is determined using an endocrine peptide test. Levels of c-peptide in the blood help in determining the amount of insulin produced by the pancreas.
The estimated market size of endocrine peptides testing market in 2031 will be US$ 5.05 billion.
The revenue CAGR of endocrine peptides testing market during the forecast period will be 8.20%.
Some of the prominent market players in the global endocrine peptide testing market include Abbott Laboratories, Bio-Rad Laboratories Inc., and Quest Diagnostics Incorporated.
The human chorionic gonadotropin segment led the global endocrine peptides testing market.